As adults age, our bodies start to wear down.  We don't move as fast, some of us get gray hair or lose it altogether…or both, and bones and muscles hurt, sometimes for no reason at all.  One other part of our bodies that wear down is our teeth.  Even the most meticulously cared for mouth will have teeth that yellow or have enamel that weakens over time.  Teeth may chip or even fall out.
This can be an issue not only for one's self-esteem, but also your oral health.  A dental prosthesis can improve both by replacing missing teeth or masking defects.  Crowns, bridges, dentures, veneers, and implants are all types of prostheses.  They may be permanent or removable. Almost all are custom made.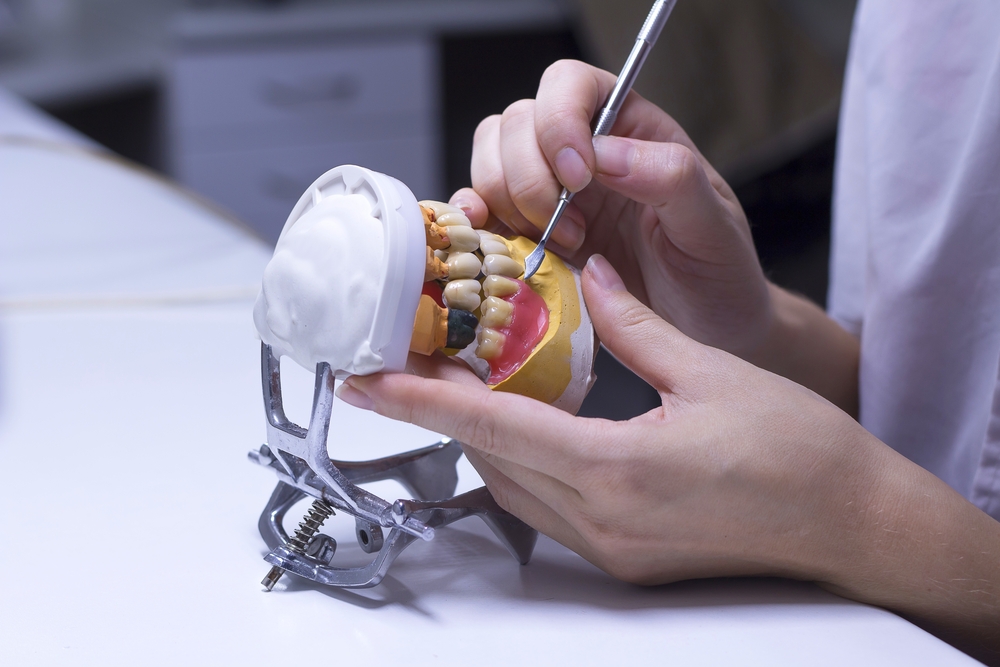 Kinds of Prostheses 
Patients have many choices in selecting a dental prosthesis, depending on their need and their budget.   The first step in making the best decision is understanding the types of prostheses.  Among them are:
Crowns – conceal a single damaged tooth or act as a bridge. They are fixed on each side of one (or more) false teeth.
Implants – these dental appliances are attached to the bone of the jaw similar to the root of a tooth. They can supplant one, a few or a whole row of teeth.
Dentures – stand in for either a few false teeth or an entire row (partial vs. full dentures)
Veneers- shells that cover damaged or discolored teeth to make them appear more natural
If you think that you might be a candidate for a dental prosthesis, schedule and appointment with your dentist or prosthodontist today. They can advise you on your options and see you make the right choice. They'll be able to answer any questions you might have. Why wait any longer to improve your smile?
Making A Dental Prosthesis 
The course of producing a dental prosthesis has many steps and may take several weeks. Here's a brief run-down:
First, you'll undergo a complete examination of your teeth and gums.  Dental X-rays will be taken, if not of your entire mouth, at least of the affected teeth. The mission is to construct for you a prosthesis that will coexist with your natural teeth, and help you eat and speak comfortably, while also being aesthetically pleasing.
Next, you'll have an impression of your existing teeth taken. This is done by biting into a mold that will then be sent to a lab.
Prostheses are typically created in dental labs. They are made from a variety of materials: porcelain, composite resin, acrylic or zirconia.
When your device is ready, it can be installed inside your mouth. How that's done will depend on the type of prostheses you're receiving. If it's a crown, a bridge or veneers, your dentist may ready the surface of the tooth by removing or etching a part of it. To guarantee a tight, but still comfortable fit, dentures would need to be checked. Implants, being the most complicated device, require the dentist to surgically insert a titanium post directly into the bone. Then, after a few months, your prosthetic can be placed and secured.
Though the process of developing and implanting a dental prosthesis can be tedious, it is certainly worth it. Dental prostheses improve not only your health, but also the quality of your life.
Advantages Of Dental Prostheses 
Having a dental prosthesis improves not only your oral health, but also your mental and physical health. Consider for a moment just some of these benefits:
First of all, self confidence. Imagine not worrying about what other people think of your teeth.
They improve your smile. With dental prostheses, a whiter smile with straight teeth is possible.
They help with eating, speaking, and even digestion. Because of dental appliances you can enjoy a greater assortment of foods and chew better. Patients who have had prior speech issues or impediments due to missing teeth, see marked improvement with dental prostheses.
They advance your overall oral health. Replacing missing teeth prevents the remaining teeth from separating and can improve gum health.

Prostheses Cost
The cost of your dental prostheses depends on many factors: what kind of device is being installed, what method is being used to install it, the dentist performing the procedure, your current dental health and additional "prep" or "post" work required, whether anesthesia is required, and your insurance co-pays and deductibles. Most of these procedures will have preset costs, so if you're curious about receiving a dental prosthesis, your dentist can help you determine your cost and may have payment options as well.
Here are some examples of prices of various dental prosthesis:
Crowns: anywhere from $500 to $3,000 per tooth
Dental Implants: $1,000 – $3,000 per implant
Partial Dentures: $500 – $1,800
Full Dentures: $1,000 – $8,000
Veneers: $250 – $2,500 per tooth
Contact Kelly Road Dental Today!
If you are interested in discussing dental prostheses further, or would like to know more, reach out to Kelly Road Dental today. We are here to answer any questions you may have. We will also gladly schedule an appointment with you.
If you don't have your regular cleaning/check-up appointment scheduled yet, contact us today, too. Remember—if you take good care of your oral health now, you may not need any dental prostheses later on!